Dentures – Denton, TX
Replace All Your Missing Teeth at Once
Dentures are a tried-and-true tooth replacement method that has been worn by mouths of all shapes and sizes for hundreds of years. Even today, many dental patients prefer the ease and affordability of dentures over newer, more sophisticated tooth replacement options, such as dental implants or fixed bridges. Don't worry, while dentures may have been a one-size-fits-all option at one time, today they're custom-made for each unique smile. Dr. Ted Dunson and his staff will ensure that you get the best possible fit with custom dentures at our Denton, TX dental office. Let us rebuild your smile from the ground up today!
Why Choose Southridge Dental Family & Cosmetic Dentistry for Dentures?
Fully Customized Full and Partial Dentures
Partnered with Local Implant Experts
Experienced, Loyal Dental Team
Who's a Good Candidate for Dentures?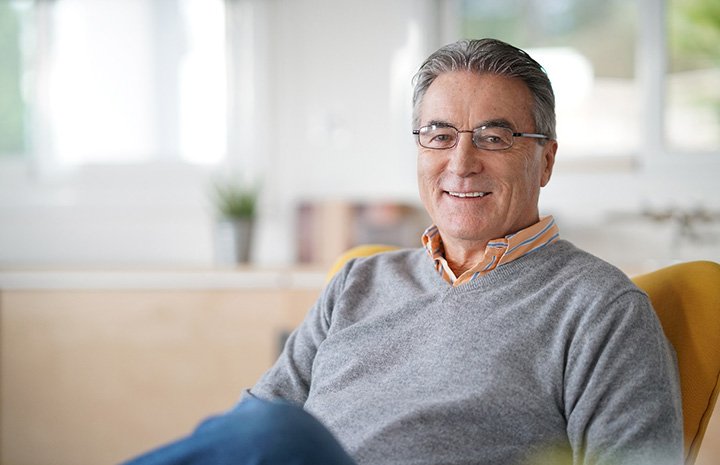 Knowing whether you are a candidate for dentures or not requires meeting with a skilled dentist who understands the complexities of missing teeth and what is required to achieve a complete smile. The good news is that no matter how many teeth you are missing, dentures can be an ideal solution to help you get your smile back on track. But even if Dr. Dunson doesn't believe you are ready just yet, there are ways he can get your jawbone and gumline ready for these custom-made prosthetics.
Effects of Missing Teeth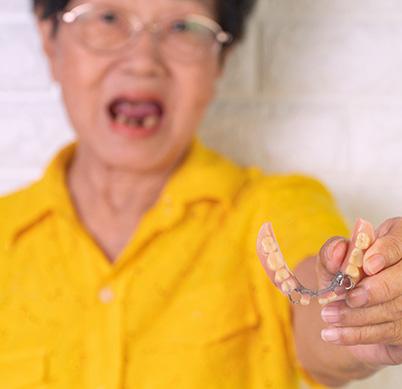 Missing teeth are not what anyone expects to experience as they go through life. Unfortunately, problems can arise that result in the loss of pearly whites, causing your smile to no longer function or look like it once did.
Gum disease, injury, and tooth decay are all common reasons for tooth loss. When this happens, you will notice that over time, your jawbone begins to shrink. What is happening is that when there is no tooth to provide continuous stimulation, it starts to lose density because of the lack of blood flow. As this happens, additional teeth may become loose as a result.
This is why a dense jawbone must be established before receiving any kind of custom-made prosthetic. Otherwise, you'll continue to suffer from the inability to eat, speak, and smile with confidence.
What Qualifies You for Dentures?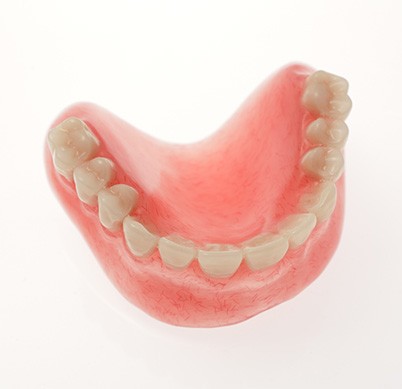 To be eligible for dentures, your dentist will need to perform a thorough examination of your oral health. While these prosthetics have been around for centuries, they do require that your oral anatomy be capable of supporting this type of tooth replacement.
You might look at your smile and assume there is no way that dentures could ever give you back the kind of smile you once had, and you would be right. There is nothing more reliable than natural teeth; however, the use of these tooth replacement solutions makes it possible to live your best life and enjoy eating, speaking, and smiling again.
Meeting with a skilled denture dentist can ensure that you receive the best prosthetic to meet your need. Whether it is a partial denture, full denture, or implant denture, our team will help you move to the next phase so that you can get started.
Alternative Tooth-Replacement Options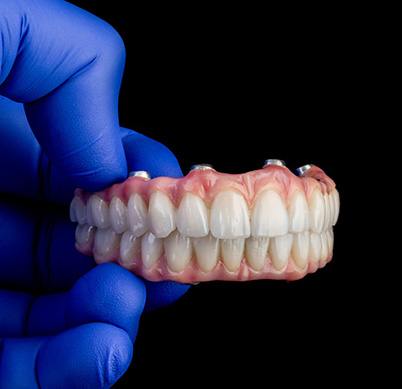 Maybe after meeting with your dentist, you learn that dentures may not be the best option for your smile. That's okay! There are other tooth replacement options available, such as:
Dental Bridges – If you are missing one or more teeth along an arch (between 1-4), you may be eligible for a dental bridge. This helps to fill in the gap left behind by missing teeth and create a cohesive, blended, and natural appearance using two dental crowns, healthy abutment teeth (as anchors), and pontics (artificial teeth) that rest on top of the gums.
Dental Implants – This can be a great option if you prefer a more permanent solution. Dental implants are made of titanium and are placed inside the jawbone to create a solid foundation for your new denture. It can be an implant partial or full implant denture depending on how many teeth you are missing. But instead of relying on metal clasps or natural suction, these restorations are attached to the dental implant posts in your jaw.
Types of Dentures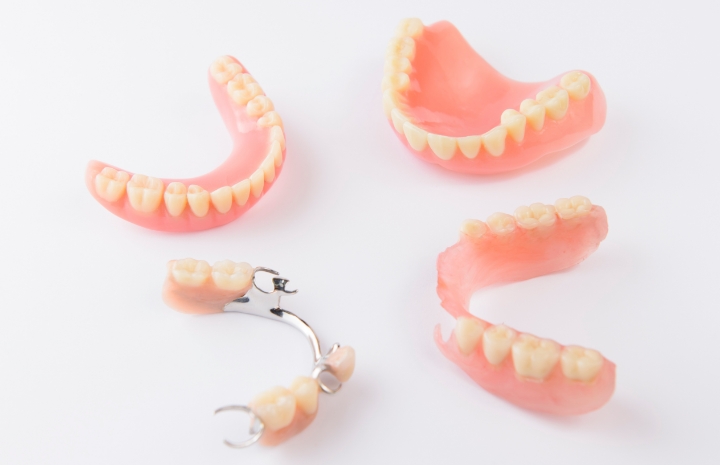 Depending on your needs, we can offer one of three different types of dentures to restore the beauty and function of your smile:
Full Dentures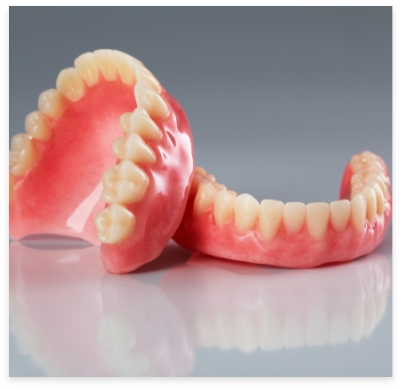 A full denture can replace an entire row of your teeth comfortably, whether it's the upper arch, the lower, or even both. It stays in place thanks to natural suction; dental adhesive can also be used for extra security.
Partial Dentures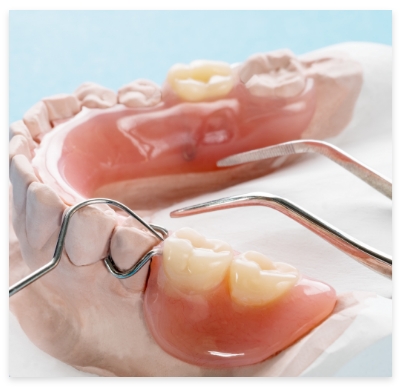 For patients who are only missing some teeth, we can instead create a partial denture created to fit your unique needs, which attaches to your mouth with the help of clips. It's designed to match the size, shape, and color of your remaining pearly whites to give you the appearance of a naturally complete smile.
Implant-Retained Dentures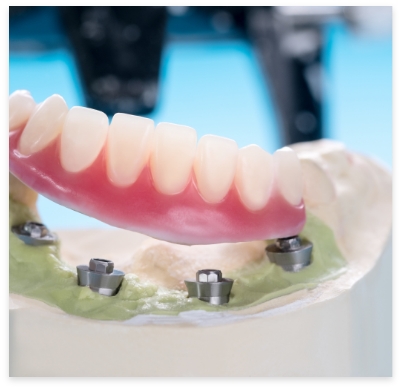 For replacement teeth that are sturdier and longer lasting, we can attach a full or partial denture to dental implants. Once these titanium posts are surgically placed into your jawbone, they begin fusing with the bone, forging a bond that can last for decades to come. Implant dentures are more secure and less likely to slip around when talking or eating.
Benefits of Dentures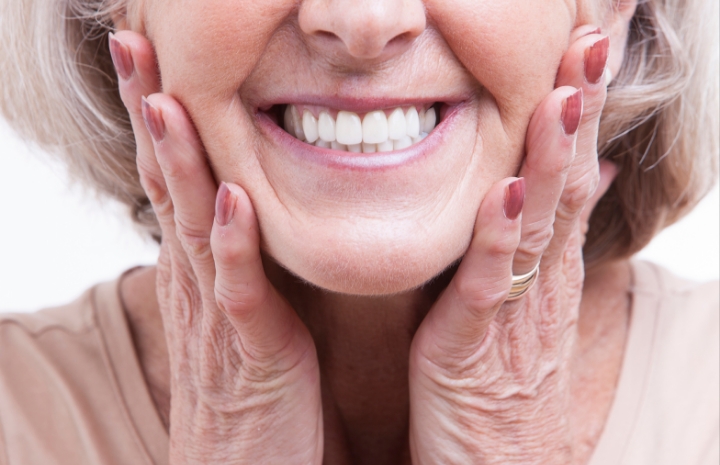 No matter what kind of denture you choose, you'll be making a wonderful investment in your confidence and quality of life. You can once again enjoy chewing all of your favorite foods and speaking clearly without the burden of missing teeth. You'll be able to smile confidently, just like you did before tooth loss.
When you don't replace missing teeth, your remaining teeth begin to drift out of place, creating an uneven bite that can contribute to teeth grinding and temporomandibular joint (TMJ) disorder. Your teeth also don't support your facial structures anymore, causing premature sagging and wrinkling of your facial tissues. Replacing your lost teeth with dentures prevents dental drift and allows you to maintain a youthful, vibrant appearance.
Understanding the Cost of Dentures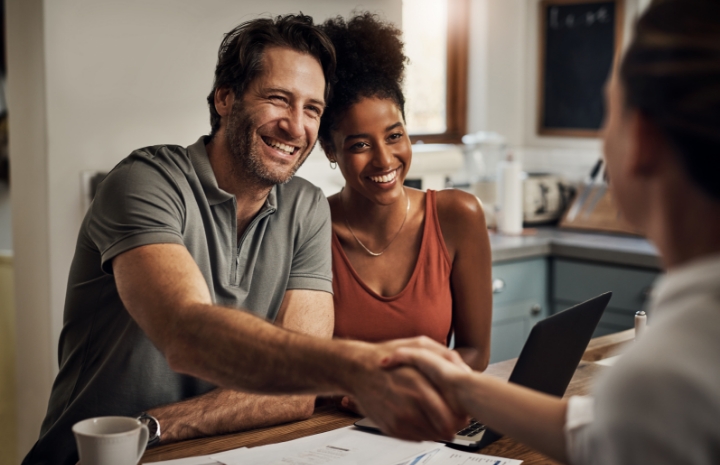 Don't let tooth loss keep you from living your life to the fullest any longer. Dr. Dunson wants to restore full form and functionality to your smile with the help of dentures in Denton. While the cost of treatment can vary, we're happy to go over the most influential factors with you and help create a financing plan that fits into your budget.
Factors that Affect the Cost of Dentures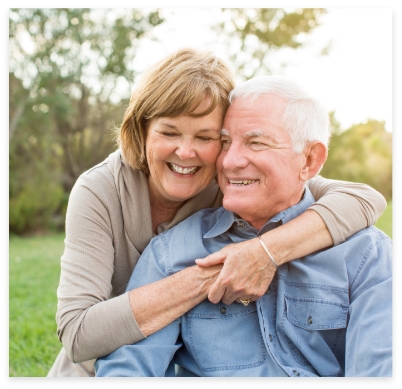 Because each denture is custom-made, there is no fixed cost of dentures. The price you pay for this method of tooth replacement will depend on several factors, such as:
How many teeth you're missing
Whether you need any extractions before getting dentures
Where in your mouth the missing teeth are located
Whether you're securing your denture with dental implants
What type of acrylic is used to create the base
The material used for the replacement teeth, which could be either porcelain or acrylic
Keep in mind that just because a denture is cheap does not necessarily mean that it's the best option, especially for something that you're going to be using on a regular basis.
Are Implant Dentures More Expensive?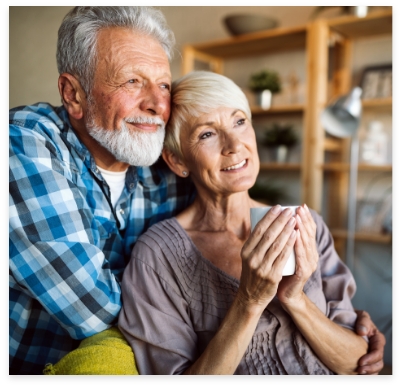 Overall, implant dentures are more expensive than traditional dentures for a couple of reasons. For one, dental implants involve the process of placing multiple titanium posts inside of the jaw so they can integrate with the jawbone. This means oral surgery needs to be performed, which can be time-consuming and labor-intensive. With that said, the results that they provide are significant. Not only can you eat all the foods you enjoy and prevent a slipping or shifting restoration, but you can expect your tooth replacement to last well over 30 years! In comparison, dentures need to be replaced every five to seven years.
Does Dental Insurance Cover Dentures?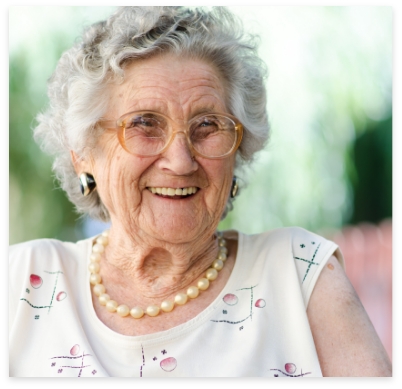 In most cases, dental insurance will provide some level of coverage for dentures as they are seen as a major treatment by most providers. Typically, insurance coverage averages up to 50%, but this can vary depending on the policy. Our dental office accepts most dental insurance plans and would be more than happy to evaluate your policy and maximize your benefits. We want you to be able to have a full smile without breaking the bank!
Other Options for Making Dentures Affordable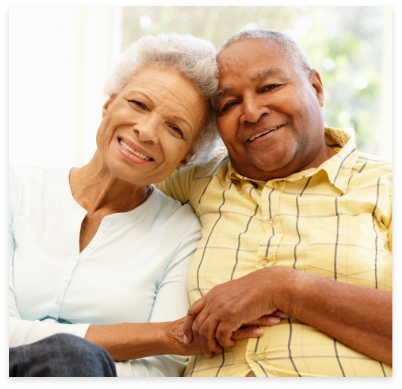 Even if you don't use a dental insurance plan at this time, there are other options available to you that make your dentures more affordable. This includes CareCredit, a third-party financing option that makes it easier to pay for more expensive treatments over a longer period. Not only can you split up the cost of your services on a monthly basis, but you can also expect little to zero interest on your payments, making your dental care even more affordable.
If you'd like to learn more about paying for your future denture, please don't hesitate to give us a call directly!
Dentures Frequently Asked Questions
If you've suffered significant tooth loss, dentures in Denton are a great option to rebuild a beautiful, functional smile. Although they've been used for decades, it's normal to have a few concerns before you're ready to commit to them. We'll take the time to explain the process during your initial consultation. While you wait for your visit, here are the answers to a few of the most common questions patients ask us about dentures.
What are my options to replace my teeth?
Depending on the severity of your tooth loss, we'll recommend one of two treatments:
Dentures
Dentures are the most traditional solution to replace an entire arch of missing teeth. Although they have a bad reputation for looking and feeling fake, they are more realistic than ever. We'll use an impression of your mouth to create a gum-colored base to support your carefully crafted replacement teeth. A conventional denture rests on top of the gum tissue and is held in place using suction or an adhesive. We can also use dental implants to secure the arch to your jawbone.
Partial
A partial denture can replace several missing teeth throughout an arch. Prosthetic teeth are affixed to a gum-colored base that has a metal framework. This allows the partial to clip onto your natural teeth to hold it in place. Your new teeth are customized to match those you have lost to blend in seamlessly to feel confident when you smile.
Will my new smile look and feel natural?
Modern dentures have undergone several improvements over the years. Now, they look and feel more natural than ever. Your new teeth are designed to meet your specific needs, so you can smile without any worry because no one will know they aren't natural. Not to mention, you'll be able to enjoy many of your favorite foods again to maintain a balanced diet.
Can I use my dental insurance?
Although every policy differs, many insurance plans can be used to help offset the cost of the treatment. After reaching your annual deductible, you have access to a yearly allowance to reduce the cost of common treatments.
We'll work on your behalf with your insurance company to maximize your benefits to lower your out-of-pocket expense. If there's any remaining balance, we'll help you find the solutions you need to rebuild your smile without breaking the bank.
How long do dentures last?
Dentures are more durable than ever, but they will suffer damage over time from daily wear and tear. Not to mention, your mouth will change shape, causing your dentures to fit poorly. On average, you can expect to need new dentures every 5 to 7 years; however, there are several things you can do to protect your investment. Caring for your dentures each day will promote their longevity, as well as regular appointments for adjustments. If you're interested in a more permanent option, ask us about stabilizing your denture with dental implants.