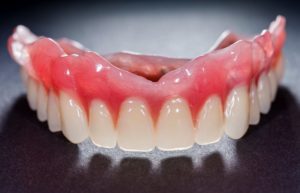 Just like any oral device, dentures can take some time to get fully used to. Whether you've had missing teeth for years or you've just had teeth extracted, getting used to foreign objects constantly in your mouth isn't always so easy at first. However, your dentist wants you to know that this sensation won't last forever.
To make the process as smooth as possible, here are five tips to consider when making the transition to wearing dentures in Denton.
In the Beginning, Take it Slow
Keep in mind that it will take some time for you to adjust to your new prosthetic. You may feel some mild discomfort wearing, removing, and replacing your dentures on a daily basis, but it will eventually become comfortable over time. A great way to reduce soreness in the beginning is to remove them every four hours. This will help your jaw and gums get used to them.
When eating, make sure to cut your foods into smaller bites to make chewing easier. You'll also want to switch to a softer diet of soups, mashed foods, stews, steamed vegetables, soft breads, and other foods that can be prepared for easier consumption.
Follow Instructions from Your Dentist
If you recently had a tooth extracted, make sure to follow your treatment plan as prescribed by your dentist. Every patient's mouth heals differently, so make sure you're taking medication your dentist gives you, attending appointments for necessary adjustments, and keeping up with your routine dental visits and oral hygiene. Remember to ask your dentist if you have any questions about cleaning your dentures and mouth.
Work Your Cheeks
Your cheek muscles are working hard as you chew food, so they may become sore in the beginning. Massage your cheeks throughout the day to help you stay prepared for wearing dentures. If you still have soreness after wearing your dentures for several weeks, it could be a sign that they're ill-fitting.
Sing Your Favorite Song
According to speech therapists from Articulate Technologies, singing is actually a great way to practice speech training. When wearing your dentures, try singing your favorite song, especially songs with smooth fluid phrases at a slow rate. This will help you articulate words more easily.
Become Familiar With Denture Adhesive
Once you receive your dentures, talk with your dentist about adhesives and dental creams designed to help patients with dentures. Experiment with different brands until you find one that works for you. Just make sure you don't substitute the adhesive for poor fitting dentures, which can cause sores and calluses if you fail to have them properly fitted.
Are you ready to replace teeth with a new set of dentures? Have more questions on adjusting to them? Schedule an appointment with your dentist in Denton today!
About the Author
Dr. Ted Dunson II earned his DDS degree from the Baylor College of Dentistry. Him and his team offer both full and partial dentures and promise to make sure that your denture has the most comfortable and secure fit possible. To learn more about his practice, contact him through his website.