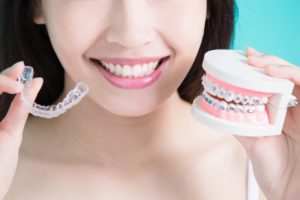 Are you considering straightening your teeth? When you look in the mirror, do your teeth look crooked or crowded? Thanks to modern-day orthodontics, you now have multiple options to choose from when deciding to straighten your smile. Traditional braces in Denton and Invisalign treatment have their own advantages you'll want to know about before choosing. Keep reading to learn what kind of benefits you'll receive from wearing traditional braces and Invisalign clear aligners.
Benefits of Traditional Braces
Braces consist of metal brackets that are placed on your teeth with an adhesive and connected by wire. Over the span of your treatment they will be tightened to create steady pressure that straightens your teeth and aligns your jaw. See some of their advantages below:
Versatility: Metal braces can treat severe cases of misaligned, spaced out, crooked, or crowded teeth.
Affordability: Traditional braces are one of the most inexpensive treatment options.
Variety: Braces are now made with various designs and colors, which gives you the variety to choose your look.
Speed: Treatment with braces are usually faster than other treatment options.
Braces are tried and true. They are definitely the longest running treatment for straightening teeth, so they have the most success stories associated with them.
Benefits of Invisalign Clear Aligners
Invisalign treatment uses custom-made clear aligners that are changed out roughly every 2 weeks until your teeth are aligned properly. These aligning trays are molds of your teeth (similar to retainers) that slowly shift your teeth into proper alignment for a beautiful smile. Check out some of the top benefits for this treatment:
Appearance: Their biggest benefit is their discreteness. Because the aligning trays are clear, people will barely notice that you're straightening your teeth.
Comfort: Invisalign aligners can be removed for a short period of time if you're taking a picture or need a quick break.
Functionality: Since the aligners can be removed, you can eat whatever you want. Just rinse them out before putting them back in your mouth.
Duration: This treatment usually lasts around a year. That's a relatively quick time to have a lovely, straight smile.
Whether you choose braces or Invisalign in Denton, you know are getting a tooth straightening treatment with many benefits that will give you a healthy and beautiful smile. Contact your trusted dentist today to get started on a perfectly straight grin!
Meet the Dentist
Dr. Ted Dunson II knows that your dental health and the alignment of your teeth are related, which is why he offers a wide range of dental services and orthodontics all under one roof. He takes pride in caring for his patients and boosting their confidence with gorgeous smiles. He currently practices at Southridge Dental Family & Cosmetic and can be contacted by phone at (940) 566-4942 for any questions.