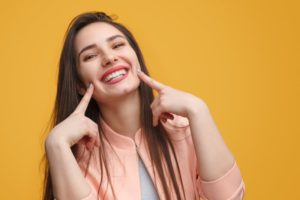 Did you know at least 178 million Americans are missing at least one tooth? So, if you're missing any teeth, you're definitely not alone. Thanks to modern dentistry, you now have various replacement options to complete your smile. Of these options, dentures and dental implants in Denton are some of the most popular. Keep reading to learn some advantages that you'll see when replacing teeth with dentures or dental implants.
What Are Dentures?
Dentures are prosthetic devices that replace teeth and support surrounding tissue in the mouth. Traditional dentures are removeable, and they consist of a plastic base with false teeth mounted on them. Dentures have been used for hundreds of years to deliver great-looking and functional artificial smiles.
The Benefits of Dentures
Check out some of the most common benefits patients see with dentures below:
Natural look and feel: After a brief adjustment period, you'll get used to their feel and no one will be able to tell you're wearing them.
Short treatment process: Compared to other replacement options, dentures can be made quickly—in just 2 to 6 weeks. This faster treatment allows patients to receive replacements much faster than other options.
Little restrictions: There aren't may restrictions involved with the treatment process, which makes it a great option for people of all ages, especially older folks.
What Are Dental Implants?
Dental implants are titanium posts that are placed into the jawbone to act as an artificial tooth root. These posts fuse to the jawbone to create a long-lasting, sturdy support for tooth restorations. They can be used to replace a single tooth or many teeth.
The Benefits of Dental Implants
See below some of the biggest advantages that patients see with dental implants:
Longevity: With proper care, the implant itself can last a whole lifetime. The tooth restorations will need to be replaced about every 15 years.
Look and feel: Dental implants are the only replacement that mimics the way your teeth emerge from your gums.
No diet restrictions: Because dental implants are fused to the jawbone, they're not going anywhere. This means you can eat all of your favorite hard and sticky foods without worry about losing your replacement teeth.
Bone stimulation: The jawbone needs stimulation that your natural teeth provide. When you lose teeth, your bone begins to shrink because it isn't being stimulated properly. Dental implants are the only replacement that preserves your bone because the implant stimulates the jawbone.
The Right Option for You
If you've read through the above options and they both sound great, talk to your dentist in Denton about which option would be best for you. After discussing your desired results and a careful examination of your mouth, your dentist will be able to provide the best recommendation for you.
Does it sound like you could benefit from replacing your teeth with dental implants or dentures in Denton? Contact your local dentist to get started on a beautifully complete smile.
Meet the Dentist
Dr. Ted Dunson II is a native Texan who takes pride in providing quality care for his patients in his home state. He enjoys helping his patients complete their smiles to improve their everyday lives. He currently practices at Southridge Dental, and he can be contacted through his website or by phone at (940) 566-4942 for any tooth replacement needs!