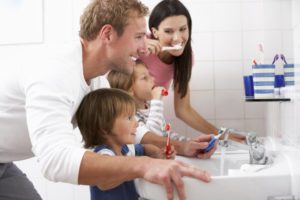 Nowadays, everyone is looking to save time and money. Those are just two valuable things that many of us can't afford to waste! Unfortunately though, there are many dental practices who don't make it easy to do that by only offering certain services for specific patients, forcing many families to become torn apart to various dental offices.
If you are looking for a dentist to take your whole family to, you can rely on your family dentist in Denton. Learn more in this week's blog post how visiting one family practice can make your whole family's lives easier!
Why Should You Take Your Loved Ones to Visit a Family Dentist?
Here are just a few of the many benefits you and your family may experience by all visiting the same dental practice:
Helping your children to feel comfortable by seeing their parents or older siblings get their dental work by the same office team. They will copy their older family members and remain calm during their appointments.
Your child won't feel awkward moving from a children's dentist in Denton to an adult office. There won't be any new beginnings as your dentist will already be familiar with their needs.
Finally have an office that caters to your family's busy schedule by allowing you to schedule all of your loved one's appointments at once. Plus, you'll only have to visit one office!
A Family Dentist Still Offers Personalized Dental Care for Each Member of Your Family
A great dentist understands that everyone's mouths are different, even if you all are related. With various ages, different dental problems arise. You can still be confident that if you visit one dental practice that everyone in your family will receive the dental care they need.
Whether your little one needs to have dental sealants placed to protect their tiny teeth from cavities or your grandmother needs to have teeth replaced with dentures, you can all visit our one office!
Schedule Your Family's Appointment Today!
A great family dentist takes pride in offering a wide variety of dental services all in one practice. If you're ready to have you and your loved one's smiles cared for no matter what your dental concerns are, feel free to contact our local office to schedule your first appointment with us.
---
About Our Office
Here at Southridge Dental Family & Cosmetic Dentistry, we are always excited to meet new families. One of the most rewarding feelings is knowing that we're able to make our patient's lives easier by offering more convenient dental care that will save you time and money. Plus, we're able to build long-lasting relationships with our patients from the moment they first visit us. Give us a call today or stop by the office!