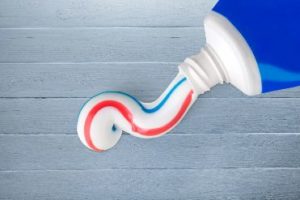 It seems like choosing the right toothpaste would be a simple task, but if you've ever spent much time in the oral care aisle at the grocery store, you know it's anything but. There are so many choices that the decision can be completely overwhelming!
As a family dentist in Denton, we've answered a lot of questions about how to choose the right toothpaste and the answer we give most often is that it really depends on your specific needs. But to help you understand the benefits of each option, we thought we'd write a blog to clear up any confusion!
Fluoride
Fluoride prevents cavities by strengthening the enamel and counteracting the effects of the acids produced in the mouth after meals. Most toothpastes already contain fluoride, but it never hurts to double check!
Also, if you're particularly cavity-prone, your dentist in Denton can prescribe a high-fluoride paste that has a higher concentration than over-the-counter options for extra protection.
Sensitivity
If you struggle with sensitivity to cold temperatures, this type of paste can make a big difference! Sensitivity formulas contain special ingredients like potassium nitrate that block triggers like cold from reaching the nerve of the tooth. The effects are cumulative, so it may take 2-3 weeks of consistent use to see a difference.
Natural
If you have an allergic reaction to any of the ingredients in standard toothpastes, such as sodium laureth sulfate, a natural option may be a great choice. Just make sure it still has fluoride for cavity protection!
Children's
Anything that makes brushing more enjoyable for your child is a good thing! With popular cartoon characters on the front of the tube and kid-friendly flavors, children's toothpaste can do just that.
Just be sure to dispense only a pea-sized amount so your child gets the right amount of fluoride.
Whitening 
If you get stains easily from coffee, tea or red wine, these pastes can help remove surface stains and give your teeth a cleaner, brighter appearance.
A whitening paste is especially helpful to use during and after a professional whitening treatment and can enhance the final result.
Tartar Control
Over time, this formula can reduce the amount of "scraping" that you need during your cleanings. Remember that in some cases, a tartar control formula can increase sensitivity; so simply discontinue use if that applies to you.
Which One is Right For Your Family?
The main recommendation for the right toothpaste is that you use one with fluoride in it. Beyond that, it's simply a matter of your needs and goals!
Also, it's always an option to keep a couple of different varieties on hand or alternate between 2-3 choices. For example, you could use a sensitivity formula in the morning and a whitening paste at night.
With all the choices available these days, you can easily tailor your products to fit your specific needs!
About the Author
Dr. Ted Dunson II is a firm believer in the benefits of using the right products at home to prevent dental problems and achieve excellent oral health, so he always takes the time to help his patients find just the right toothpaste. If you have any questions about the oral care products you use, he can be reached via his website or at (940) 566-4942.