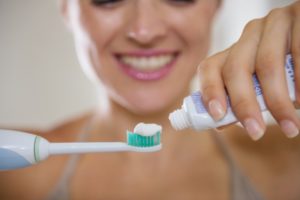 Before you begin purchasing that toothpaste that promises whiter teeth after just one use or over-the-counter whitening kits that are often quite expensive, shouldn't you have a well-informed understanding of the ingredients in these products and how they work? The last thing you want to do is begin using a product and then become disappointed when the results aren't what you expected.
Before you buy any whitening product, you'll want to consider all your options. Whether it's a toothpaste or professional teeth whitening in Denton, it's always better to know what you're getting into.
Toothpastes for Immediate Whitening
For the most part, whitening toothpastes are only effective at removing extrinsic stains caused by yellowing beverages and lifestyle habits. If you want to remove stains that appear briefly such as stains caused by cola, tobacco, rich dark sauces or other staining foods, a whitening toothpaste will do the trick. However, since extrinsic stains only appear on the surface of enamel, whitening toothpaste can only go so far.
In fact, most whitening toothpastes take a long time before they start to have a noticeable effect on the overall shade of your smile. If you want immediate results, look for a toothpaste containing blue covarine. This chemical can reduce the yellow tint often caused by staining substances, but it won't be as long-lasting.
Long-Term Toothpastes to Consider
If you're willing to commit more time and effort to achieving a white smile, look for products that contain specific bleaching agents. Ingredients like carbamide peroxide, hydrogen peroxide, calcium carbonate and magnesium carbonate all work to remove stains from teeth and make them appear whiter. When used over the same two-week period, they all provide generally the same results.
Reading the Fine Print
Remember that not all whitening products are created equal. Some products that claim to whiten teeth naturally are not always considered safe or effective by the American Dental Association. Before you buy a product, check the back of the package for the ADA's Seal of Approval. This proves that the product producer took the time to prove its effectiveness and safety for use.
It's also important to consider the risks that often come with using whitening products. Because of the abrasives whitening products use, using them incorrectly can result in enamel erosion and tooth sensitivity. Never brush for longer than instructed on the product if you want to keep your oral health in the best condition possible.
Over-the-Counter Whitening Trays vs. Professional Whitening
Over-the-counter whitening trays are typically more effective than whitening toothpastes because of their higher whitening percentage and method of applying the bleach. Since toothpaste is generally washed off after use, whitening trays work by maintaining constant contact with your teeth, therefore offering a more effective whitening overall.
If you want the most effective whitening, nothing compares to the professional-grade ingredients and coverage than in-office and take-home whitening kits. While these methods can be more expensive, they'll worth the investment if you want the best and whitest smile possible.
Don't settle for inferior teeth whitening. Schedule an appointment with a cosmetic dentist in Denton to learn how to remove deep intrinsic stains store-bought solutions can't solve!
About the Author
Dr. Ted Dunson works hard to make sure each patient feels like they received the best possible dental care available, including for cosmetic treatments. Thanks to his continuing education and extensive research, he's able to provide the most up-to-date treatments regardless of how unique his patients' dental problems are. To learn more about his practice, you can contact him through his website.